© Paul Mozell 2009
Question: Why don't my prints match what I see on my monitor? Answer: Because you are not utilizing color management.
This has to be the most commonly asked question about making color prints. Color management is a process which ensures that all the color capture, display, and printing devices in your workflow are speaking the same language. Once it has has been established and verified, color management empowers you to make prints with predictable color. Meaning; the colors, contrast, and brightness you see on your screen are what you get in the final print.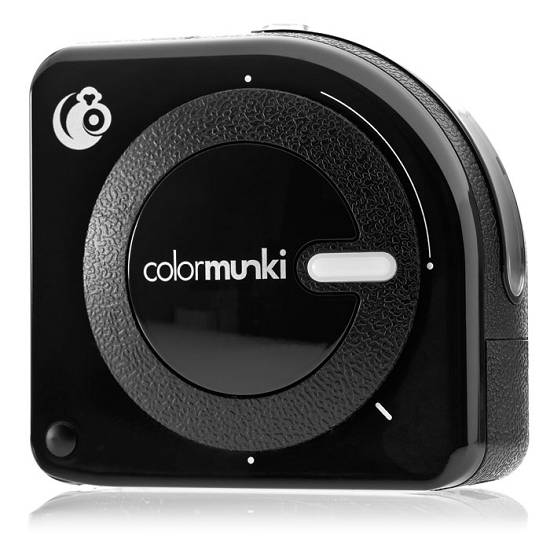 Colormunki from X-Rite is a small hand-held spectrophotometer that measures and calibrates LCD, Laptop, and CRT monitors, any printer and ink combination, and even LCD projectors. As someone who has used color management products for over 10 years, I am amazed at the versatility of this one device.
Colormunki is for amateur photographers who make letter-sized prints of family, friends, and vacations; pro photographers who need dead-on accurate color for agency clients; graphic designers who view and print colors in Adobe Illustrator, InDesign, and Photoshop; and users of wide format ink jet printers who make posters and prints for fine art and commercial use.
I first used Colormunki to calibrate the monitors in my Macintosh-based digital studio. I've got a 17 inch Apple display and a Samsung 204B 20 inch display. Colormunki is roughly 3 1/2″ square; about the size and weight of an old point-and-shoot digicam. I launched the Colormunki software (provided for both Mac and Windows), plugged the device into a USB port, and followed the on-screen instructions. The on-screen guide told me to position Colormunki in the middle of the LCD screen using a counter-weight built into the handy carrying strap.
Next, I followed instructions regarding adjustment of the monitor's built-in brightness and contrast settings. Then, I leaned back in my chair while Colormunki completed the measurement process. Without ever consulting a users' manual, I had created an ICC, or Colorsync profile, describing the color rendering capabilities of my monitor—and it only took about 5 minutes to calibrate each screen. I was pleased to see that when I opened a test file in Photoshop CS3, the image appeared identically on both systems. Current Mac and Window operating systems will automatically apply the profile settings to your screen. Because all monitors' characteristics shift over time, periodic re-calibration is recommended.
My next task was to create profiles of several ink and paper combinations for the two photo printers I have on hand: an Epson R1900 and Epson 2200. Both are pigment printers, spanning about 4 years of technological improvement. My goal was to create identical prints from one test file.
Colormunki instructed me to select the printer in a dialog box and assign a name to the profile I was about to create. Then, I loaded a sheet of letter-sized paper into the printer, and waited while the printer produced a page of 50 color patches; each about the size of 2 postage stamps. An on-screen timer instructed me to wait 10 minutes while the print dried. The next step was to make five passes over the test print with the Colormunki, reading the printed color values. This took no more than about 2 minutes. Colormunki interpreted the data and then printed one more test print with adjusted color patches that accounted for the values read in the first page. After another 10 minute wait I slid the device over the patches on page two, and the process was finished. My time invested in making a profile for one ink and media combinations was about 25 minutes.
Your Canon or Epson photo printer manual will have instructions for making prints with custom profiles. Most computer users will be using Adobe Photoshop, Photoshop Elements, Nikon Capture, and a few other programs to accomplish this. I profiled glossy, fine art, and matte papers from Epson, Hahnemuhle, Costco, Epson, and Staples.
The prints from my test file were consistent, beautiful, and accurate. I believe that I also made profiles that were better than those provided by Epson for use with their own media.
Public speakers, presenters, and audio-visual professionals will get hooked on Colormunki's ability to calibrate projectors. No more blue Powerpoint backgrounds that appear purple! Last but not least, it will adjust monitor profiles to compensate for the varying color temperature of available light in your work space. This is key if you are evaluating color prints under a variety of light sources.
Colormunki is bundled with useful software add-ons. One attaches ICC profiles to emailed photo files to guarantee that mail recipients view image files correctly. Another program generates a palette of the colors appearing in an open photo file. This may prove to be a very useful tool for graphic designers.
Color management will save you time, money (on wasted ink and media), and make a noticeable improvement in the quality of your photographic prints. The street price for X-Rite Colormunki is about $449.95 and is available from better photography retailers.