by Paul Mozell—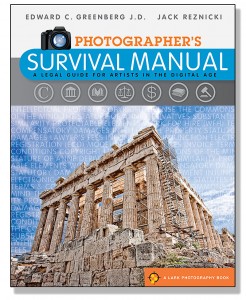 I just finished the best book I've ever read on the subject of copyright protection, model releases, and invoices for photographers.
The authors, Edward Greenberg and Jack Reznicki are a dynamic duo composed of an experienced copyright attorney and a veteran New York commercial photographer. Photographers and artists are generally not the best business people. Rather than make you feel stupid for neglecting getting essential protection for your work, they will spur you to action with humor, anecdotes and enough  legaleeze to make you feel empowered.
Here's what it comes down to: For a mere $35 registration fee, payable to the US Copyright Office, you can register hundreds, or thousands of images in one online session. In our world of instantaneous  communication it is just too easy to pirate photographic work. This book dispels a lot of the myths about copyright and model releases. Don't stand by while someone uses your work without authorization and compensation.
And these pointers from me that I think are not covered in the book: Get familiar with the Terms & Conditions of Facebook, Google+ and the gang. You may be giving away your images without knowing it. Finally, ask your friends and relatives not to upload their photographs FOR FREE to television stations and online news outlets.
The Photographer's Survival Manual: A Legal Guide for Artists In the Digital Age is published by Lark Photography Books and is available from the usual sources. Better yet, order a copy from your local, independently-owned book store.